Blockbuster Free Movie for Halloween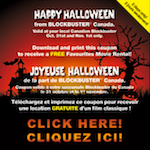 We've got a nice printable coupon for you to get a free movie at your nearest Blockbuster store. The free movie can only be a favorite seven-night movie rental, which means you cannot get a new movie. So what about an old scary movie for Halloween, such as Freddy vs Jason for example? I think that's exactly what I'll do tonight. Watching a horror movie at my place, being scared to death and trying not too have a heart attack every time I hear a sound somewhere in my apartment! Happy Halloween everyone!
You will need to click on our link below and print the coupon to bring it to your nearest Blockbuster store. And you can also use it on November 1st if you prefer.
Print Blockbuster Coupon
Find the nearest Blockbuster store
Try Netflix Free