Free Bowling for Kids

News to me today, kidsbowlfree.com are running s special across Canada locations (we'll get to that later). Kids can go bowling for free! Go to kidsbowlfree.com for the full info.
6 kids can be registered and bowl for free. Limited to 2 free games per day while summer lasts. The site is pretty cool actually, if you pre-purchase tickets on their website you can buy a family pass at a discount for only $24.95 (4 adults), so you can have 6 kids with you and 4 adults for a great price.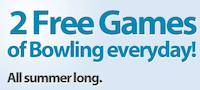 Kidsbowlfree.com Locations:
Edmonton; Callingwood Lanes
Hinton; The Perfect Game 5 Pin Bowling & Laser Tag
Whitecourt; Millside Place
Kelowna; Capri Valley Lanes
Winnipeg; Academy Lanes & Mosienko Lanes
Dartmouth; Bowlarama
Halifax; Bowlarama Bayers Road & Bowlarama Spryfield
Brantford; Echo Bowl
Cambridge; Dickson Bowl
Elgin; Elgine Bowling Lanes
Mississauga; Classic Bowl inc
Oshawa; North End Bowl
Toronto; Bowlarama & Playtime Bowl
Hintingdon; Quillorama huntingdon
Regina; Golden Mile Lanes