Free Box of Always Infinity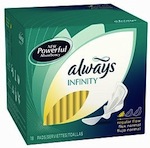 I'm not a big fan of Facebook freebies as I don't like the fact that I need to do something, apart from filling a request form, to receive freebies. I know you can call me lazy if you want to ;) Normally I'm only liking this kind of offers when they are fantastic and I think that the one I just found is pretty awesome.
Right now, when you 'like' Always' Facebook page you will get a coupon that will enable you to receive a free box of Always Infinity. There's a maximum of 20,000 available, so you surely want to hurry up and take action on this as I can guarantee that these will be given away really fast. And it would be really appreciated if the first user who's not able to get his coupon could let us know so that we can update this page and save some time for other users. Allow between 8 and 10 weeks to receive your coupon by mail, probably a little bit more if the Canada Post strike isn't resolved soon.
Get your free box of Always Infinity