Free Coffee Promotion at McDonald's Is Back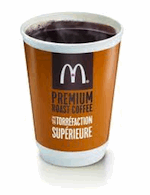 Update: The promotion is now back and going on until the 6th of November.
And it's back again! Starting on February 28th McDonalds restaurants located in Canada are going to be offering free small coffees again. It looks like it's going to be the same restrictions as for the last free coffee promotion they ran in November; one per customer per visit, no purchase necessary. And this should be going on all day long until March 6th, which gives you just about a week to enjoy free coffee at any McDonalds restaurants in Canada. Time to give McDonalds coffee a try!
Find the nearest McDonald's restaurant