Free Cottonelle Moist Wipes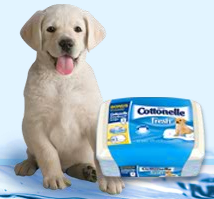 Hurry up for this really cool freebie! Right now you can receive a coupon to get free Cottonelle Fresh Flushable Moist Wipes, a free tub and a free Cottonelle EasyReach hanger. This is a really nice promotion and all you need to do is go online, enter your personal information to receive the coupon and then share with a friend your love of the product. It means that your friend is also going to receive an email with this promotion where he only needs to fill in his personal information to receive the coupon as well.
I've done it and it really takes about 30 seconds. Having to send an email to one friend is pretty reasonable if you compare to one of our last freebie where you needed to find something like 30 friends on Facebook. Just click on our link below to order your coupons!