Free Dime Basketball Magazine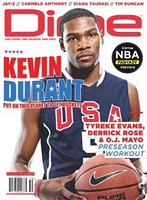 Basketball lovers will like this freebie as it's for a free 1 year subscription of Dime Magazine, which is a basketball magazine.
The promo comes courtesy of Foot Locker in celebration of Dime Magazine's 5 Year Anniversary. VIP members of Foot Locker can get a free 1 year subscription. The form takes 2 minutes to complete and may take a while to get your first copy, then you get 9 more copies which feature the hottest hoops content you can't find anywhere else.
Get your Free Dime Basketball Magazine Subscription