Free Dove Daily Treatment Conditioner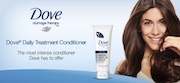 Facebook freebie! What would we do without Facebook these days? It's crazy how such a big part of our lives is on FB now! We just can't survive without this social tool anymore. Anyway, here's another freebie available on FB. You need to 'like' Dove's Facebook page to be able to receive a sample of their daily treatment conditioner. They only have 12,500 available, so hopefully you'll have time to order it before they run out of stock.
I really like Dove's products and I certainly love their marketing campaign about real beauty that can be found in every women no matter what your weight or what your skin colour is. I think we would need to see more companies like this one that get implicated in the community.
Get your free sample from Dove