Free Goodlife Fitness Membership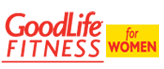 If you are interested in getting a 5 day free membership to Goodlife Fitness then keep reading. All you have to do is fill out this Goodlife form and they will email you a coupon, easy huh?
Or you can just fill out the form directly here and then send it off to claim your free membership. Unfortunately Goodlife fitness is only for women, what ever happened to equality?
~ The coupon or offer is no longer valid, please use the search feature at the top of this page to find new offers
Taken from the coupon email from Goodlife: "Simply print off this coupon and come into any one of our GoodLife Fitness for Women's clubs near you to start bringing fitness into your lifestyle. Once at the club, you will receive a complimentary Health Age Assessment. It's alarming to hear and no one wants to be older than their chronological age, yet, did you know that most of the population, through their own lifestyle choices, is left with a body older in years than they are by the time they reach 30? You have taken the first step in improving your Health Age, not becoming part of this statistic, and facing the world with a new, healthier you! Enjoy your 5 Day Gift!"