Free Leather Bound Journal for Teachers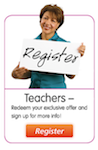 This freebie is for teachers only. Has anyone noticed how teachers are getting some pretty great freebies this year? Well if anyone deserves them it's teachers. So this freebie get's teachers a free leather bound journal. And we have the only registration code to claim this freebie, which you can grab below.
This offer is courtesy of Meadbuilder.com, who make available their software to help people plan, organize and write better research papers.
Registration Code: E1A1M01F
Available worldwide
Claim freebie (and fill out the form using the code above)