Free Martha Stewart Summer Grilling Cookbook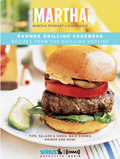 It seems like everything we have posted recently has been a freebie of some sort. this one is a little different, it's for a free ebook from Martha Stewart entitled "Summer Grilling Cookbook". It has some really nice summery recipes and best of all it's free, what do you have to loose?
The ebook may take a few minutes to downloads as it is 42MB, so if you have broadband internet it will take a couple of mins. The book is over 40 pages long, and you don't have to print it out, this is where Apple's iPad would come in super handy. It's in PDF format so you need to have Acrobat reader on your computer.