Free Marvel Digital Comic Subscription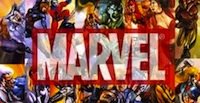 The below coupon code will allow Canadians to get a free 1 month subscription to Marvel digital comic. This normally costs $9.99 (US) for a monthly subscription or $4.99 (US) per month for an annual subscription. If you're a big Marvel Comics fan or if you think that your kids might like to read superheroes stories, then enjoy this freebie and let us know what you thought about it.
Talking about Superheroes, has anyone see the new Captain America movie? What did you think about it? I just watched the trailer and in my opinion it looks like all the other superheroe movies: action, action and a bit of love.