Free Palmolive Pure Clear Detergent Samples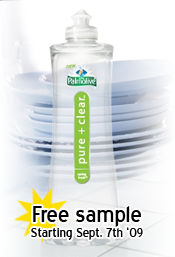 Enjoythesamples.com (a site I can't vouch for as I have never used it before) is giving out free samples of the all new Palmolive Pure clear detergent (see the image).
This is a great chance for you to try before you buy with this free mini-bottle. It's great that brands do this as otherwise they may find it hard to make people switch from their existing brand, and of course we all get nice freebies in the mail.
Read this description:
"This exciting new detergent from Palmolive provides a natural, glowing shine that redefines clean. It contains no dyes, no unnecessary chemicals, no heavy fragrances. It is also an extremely environmentally friendly product: Its phosphate-free formula is biodegradable and leaves no harmful residue on dishes. Its bottle is even made of post-consumer recycled plastic. And, of course, it cleans your dishes masterfully. You will be amazed at what this environmentally-conscious cleaner can do, without having to scrub for hours."