Free Parcel Pickup Service from Canada Post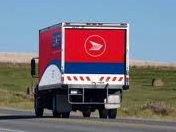 Canada Post is trying to seduce businesses again and convince them that they truly offer some of the best delivery services. Because of the strike, a lot of business were force to move to another carrier and now that the strike is over, it doesn't mean they are necessarily going to come back to Canada Post services. The following might convince them to give them a chance though.
For the next two months (ends September 30th), any business account can get a free demand pickup for the following priorities: Next A.M., Priority Worldwide, Xpresspost, Expedited Parcel, Regular Parcel, International Incentive Letter-post and other domestic, U.S.A. and international parcel products. To schedule the free pickup you can either call Canada Post or do it directly online. I think this is a good promotion as customers can normally get free pickups only when they ship a certain minimum annual volume.
Get more information about Canada Post Promotion