Get a free bag of Starbucks House Blend Coffee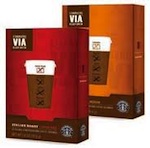 Here's a great freebie from Starbucks available to all Canadians. Starting now and until the end of August you can get a free 12 oz bag of Starbucks House Blend coffee. To enjoy this freebie you need first to buy a Starbucks VIA® Ready Brew at your local grocery store (excluding 3, 7, 10, and 12-count packs). Then complete and print the form available using the below link and send it to the right address (as indicated) with the receipt of your purchase and the original UPC. And be patient! The free coffee should arrive between 6-8 weeks! There's a limit of one per household.
Has anyone tasted the Starbucks VIA Ready Brew coffee yet? What did you think about it? I hope that it's better than other ready to brew or what we call instant coffee that normally don't taste like coffee at all. I think that it is an excellent promotion from Starbucks as I'm sure they will get a lot more clients trying this new kind of coffee just because of the freebie offer. As soon as you receive your free bag of coffee, let us know.