Free Starbucks Vivanno Smoothie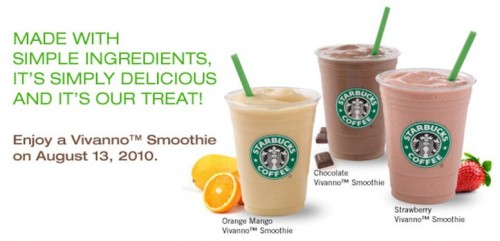 Hurry! This promotion is only valid for today and today only. So get down to your local Starbucks store/coffee shop to claim your free "Starbucks Vivanno Smoothie". This promo is only open to Starbucks Canada Reward Card Members on August 13th. I'm not a rewards member myself, but I m interested to find out how it could be and if there are any costs, especially as I will be getting a freebie.
You can choose from strawberry, chocolate and orange mango Vivanno Smoothie. As a side note there are less then 300 calories per smoothie, and can be made with milk or soy.