Free Subway Breakfast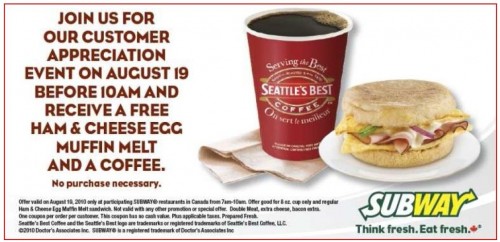 A very solid promotion from Subway. Customers can get a free breakfast (yes really) on the 19th August 2010 from 8-10am at participating locations across Canada. This is one of the better customer appreciation events we have seen in absolutely ages. I for one will be checking out the participating restaurants (as Subway is a franchise) and be there bright and early (as there will likely be a queue) for my free breakfast.
The free promotion breakfast is for a ham and egg muffin as well as a coffee. To check if your location is running this promotion give them a call and stop by and ask them.