Similac.ca: Get Free Samples

This is a cool freebie for babies, you can get loads of freebies like baby formula from Similac. Get your free sample from Similac.ca here.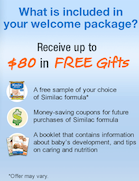 Again we recommend not to use your primary email for this one, they claim you can get $80 worth of freebies/gifts including coupons and samples and booklets. There are a few questions you need to answer, it should take you around 2 minutes to fill out in total.