Tim Hortons Roll Up the Rim to Win 2013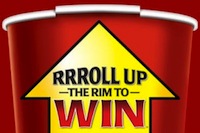 The super popular Canadian contest Roll Up the Rim to Win is back in every Tim Hortons restaurant! This is probably one of the only time during the year that I drink Tim Horton's coffee. I know I'm Canadian and I'm probably not allowed to say that I don't like Time Horton's coffee, but that's true I just don't like it. Sorry I'm not a big fan of the brand neither. Anyway, this being said they also have other hot beverages that will allow me to roll up the rim and get a chance to win great prices. Hopefully, I'm going to be luckier this year, as the biggest price I've ever won so far is a muffin ; ). What about you? Have you been luckier than me?
Good luck to everyone!